***** Sunday, December 16, 2012
***** 1:00pm-3:00pm
***** Machine Project
***** 1200 D North Alvarado Street
***** Los Angeles, CA 90026
*****
Google map of Machine Project
http://www.dorkbot.org/dorkbotsocal
Speakers will include...
Michael Kontopoulos
Michael Kontopoulos is an artist-inventor interested in constructing mechanical systems and tools for exploring the poetics of everyday, eccentric human behaviors.His work draws from strategies in speculative fiction in order to investigate the circumstances und er which people might build custom devices to suite their nuanced needs or respond to various socie tal failings. Buy constructing electromechanical artifacts and exploring them through video, he tel ls the story of those people, and the world they inhabit.
Born in Philadelphia, Michael has lived and worked in Philadelphia, Pittsburgh and Los Angeles and has exhibited his work at various galleries, festivals and conferences in the US, Asia and Europe.
Joy Padiyar
An overview of Holography is given with reference to its origins, techniques and methods. The various technical applications of holography and its usage are covered in widely differing areas such as security, the internet, industrial optics and imaging systems. The use of holography as an artists' medium is shown, along with specific examples of holographic artwork.
Joy has previously worked for American Bank Note Holographics in the laser lab, where she produced several well-known images such as the MasterCard hologram, and security holograms for Intel and USPS. After meeting Dinesh Padiyar - a fellow holographer and scientist, they both moved to San Diego and established their own company, Triple Take Holographics, featuring both high-tech applications and commercial uses of holograms.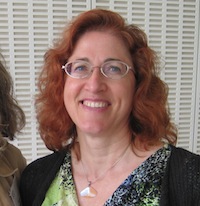 Aaron Rasmussen
Aarom was visited in his dorm by the military after building his first robot in college. Since then, he has launched the Kickstarted projects
BlindSide
, an audio-only survival/horror adventure game, and
Mr. Ghost
an iPhone electromagnetic field (EMF) detector.
---